Worse than Emergency
The latest arrests represent a new and extremely dangerous phase in the steady erosion of civil liberties, fundamental rights and indeed democracy in India.
Written by Prashant Bhushan | New Delhi | Updated: August 30, 2018 9:49:33 am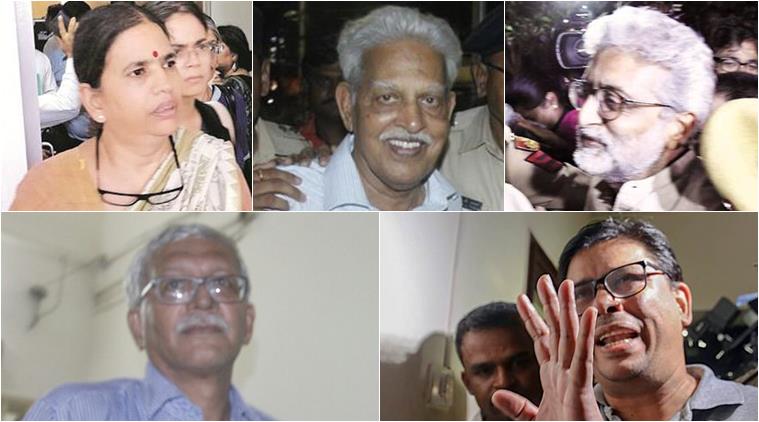 Pune police arrested (Clockwise) Sudha Bharadwaj in Faridabad, Varavara Rao in Hyderabad, Gautam Navlakha in New Delhi, Vernon Gonsalves and Arun Ferreira in Mumbai.
On Tuesday, the Maharashtra Police arrested some of India's finest human rights activists from five cities across the country on completely fabricated charges under various provisions of the Unlawful Activities Prevention Act and the IPC. The activists arrested are Sudha Bharadwaj, a civil rights activist and labour lawyer from Chattisgarh, presently teaching at the National Law University, Delhi, Gautam Navlakha, former president of the People's Union for Democratic Reforms, Varavara Rao, a poet-activist, Vernon Gonsalves, human rights activist, and Arun Ferreira, a civil rights activist and lawyer based in Mumbai.
Residences and offices of other activists were raided, and laptops and mobiles seized. These include pro-democracy activists who have been leading peoples' resistance movements for several years, such as Father Stan Swamy, an Adivasi rights activist based in Ranchi, Anand Teltumbde, a management expert, intellectual and writer, and Susan Abraham, civil liberties lawyer and a member of the Committee for Protection of Democratic Rights. The arrests and raids are outrageous attempts to stifle voices of dissent and curb peaceful struggles against this government's anti-people ideology. Democracy is under siege in India.
The Pune police have purportedly arrested these activists on the basis of the ongoing investigations into the Bhima Koregaon violence that broke out in January this year during a march by Dalit activists. The march was preceded by a conclave called the Elgaar Parishad, which was organised by Former Supreme Court judge Justice P B Sawant and former High Court judge Justice Kolse Patil. The police initially filed FIRs on January 4 against Hindutva leaders Milind Ekbote and Shambhaji Rao Bhide, based on eyewitness accounts that they and their lieutenants had incited the violence against the Dalit congregation.
But this investigation was shelved. The police instead embarked on a process of arresting a large number of activists, lawyers and journalists by first alleging that Maoists were involved in the Bhima Koregaon violence and then claiming that these activists lawyers and journalists were their urban supporters — the term, Urban Maoists has been coined to describe these activists. Shoma Sen, a professor of the Nagpur University, Surendra Gadling, a well-known human rights lawyer who has been defending G N Saibaba, Sudhir Dhawale, editor of a magazine, Rona Wilson, member of the Committee for the Protection of Political Prisoners and Mahesh Raut, a prominent anti-displacement activist, were arrested in June under sections of the IPC and the Unlawful Activities Prevention Act for inciting violence and communal enmity.
After they were arrested, some media organisations claimed that a letter was found on Wilson's computer addressed to a "Comrade Prakash" and signed by "R", which apparently talked of "senior comrades" proposing concrete steps to end the Modi-era and a "Rajiv Gandhi-type" incident being planned to assassinate the prime minister. That letter was clearly fabricated. Justice Patil and Justice Sawant, the organisers of the Elgar Parishad, condemned this letter as fake.
The letter was never produced as evidence in court. Justice Patil and Justice Sawant have claimed that the government saw a threat in the Elgaar Parishad as it mobilised people to raise their voice against the establishment. Vernon Gonsalves and Arun Ferreira, who have now been arrested, were earlier accused of Naxalite connections, but they were acquitted of all charges. Republic TV earlier ran an "exclusive breaking news" levelling unsubstantiated allegations against Sudha Bharadwaj. She was accused as having links with Maoists.
The activists arrested in June, and on Tuesday, are well-respected human rights crusaders. Their writings, advocacy of the rights of the poor and oppressed and fight for civil rights are a testimony to their selflessness and dedication. They are being systematically targeted and maliciously charged with an "intent to strike terror in the people of India" or "intent to threaten the unity, integrity, security, economic security or sovereignty of India". These activists have never been accused of any act of violence or criminal activity earlier (except Ferreira and Gonzalves who were acquitted).
In contrast, lynchers have been given a free hand. Instead of arresting them, the police is targeting people who have been speaking up against the increasing lawlessness, intolerance and violation of human rights in the country.
The coining of the term "Urban Maoists" is like the earlier coining of the term, "Tukde Tukde Gang" in connection with the protests in JNU. Kanhaiya Kumar, Umar Khalid and Anirban Bhattacharya were arrested in connection with these protests but even after three years, no chargesheet has been filed against them by the Delhi Police. Many of the videos run by the news channels that showed the students slogans, insinuating the break up of India, were found to be fabricated.
However, a narrative was built up according to which these students were anti-national and wanted to dismember India. Though the police did not find any evidence against them, this narrative created a climate in which Kanhaiya Kumar was attacked at the Patiala House, despite security and despite the Supreme Court's orders for his protection. In a similar vein, the narrative on Urban Maoists is being used by the police to raid activists and arrest them on bogus charges.
The latest arrests represent a new and extremely dangerous phase in the steady erosion of civil liberties, fundamental rights and indeed democracy in India. A recent book by two Harvard professors, Daniel Ziblatt and Steven Levitsky, How Democracies Die, underlines that in recent times, most democracies have not been brought to an end by a coup but by a steady erosion of fundamental rights and civil liberties, a drumming up of the "anti-national" narrative by the government and a compliant media. It is time for every citizen who values democracy and liberty to stand up at this moment, and signal their intention to resist this Fascist onslaught, which in many ways is more dangerous than the Emergency of 1975.